Web Design and Development
December 10, 2017
2022-07-19 12:54
Web Design and Development
We are the experts at web design and development process and we provide affordable services, not cheap ones. You just think out of your mind and you can see the real thing developed by us and put in front of your eyes. We work with you hand-in- hand and help you touch the limits of the sky.
In this world of digital era, nobody can grow his business without using any technical supplements. Whether big or small, every business needs to have a website to know people more about them. A website bridges the gap between the providers and their customers. And if you don't have the time or skills required designing it for you, we are always there for you.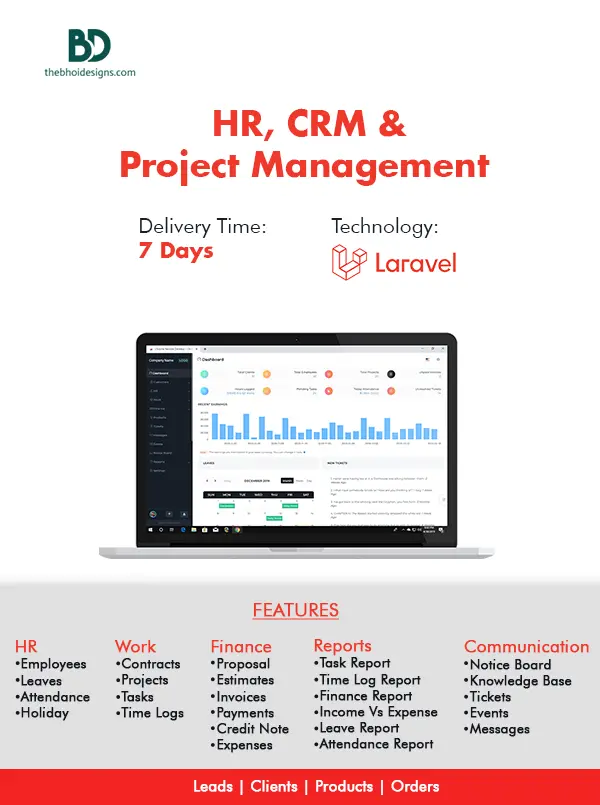 CRM & Project Management Website
Project, Event, Product, HR, Billing Website
EMI Starts @ ₹941(24 Months)

Planning
The first step, and the most important one, the most basic one in website development is planning. Planning of website is the thing which we do in detail as this will become the building block of our mockup design. We try to know everything about our clients before we begin the mockup design.
Mockup Design
Mockup Design is the first layout of how the website will be before the actual website design process. It is the full size basic design or a complete prototype of the website. We design a basic layout of the future website and then send it for the client feedback for further processing.

Client Feedback
Client feedback is most important for us in the process of website development. This is the thing, proceeding without which will mean like shooting a gun in the dark. We are experts at taking feedback. We listen to our clients and we hear the changes they want to make.
Design
After the client approves of the mockup design, we then begin with the actual design process of website. Website design is done by our expert team who knows well what gives a good look to something. They know how to catch someone's eyes in a matter of seconds so that he may look into it without realizing the passing time.
Development Process
While the website development is under process, we keep in mind to make the user interface very simple and easy to use. We make the website such that it easily loads and can be viewed in mobile and desktop browsers with equal comfort. Our expert website development team uses standard languages like HTML and CSS for creating the website.
Testing
Now it's time for testing what we have made is good enough to stand in the crowd or not. We check whether the website is having any compatibility issues over any browser or any platform. We test whether it is user friendly or not. The content is SEO friendly or not? And lastly we see whether we can expect it to give us the expected outputs.